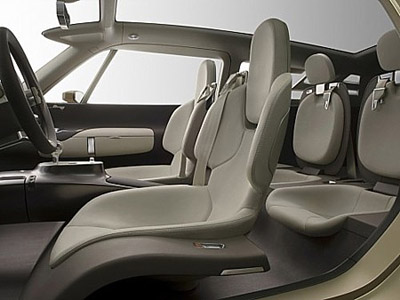 "Altica"... nice name, probably means something like high place, as in "alto" in spanish.
"In the last few months we have seen several 'sports shooting-brake' concepts - a car type that differs to the more orthodox fastback' sports coupe in having a longer roof to meet a more vertical rear tailgate." - cardesignnews.com
The Renault Altica concept shown at the 2006 Geneva Motor Show is a car which boldly attempts to bridge the wide gap between estate cars and sport coupes.
Using the contemporary Renault face common to all the recent Renault concepts and many production cars the Altica's front is unremarkable, aside from the addition of 3 mode headlights, daytime driving lights using LED technology, low beam, and high beam.
From the windscreen back the Altica concept becomes more and more interesting. The panoramic windscreen and glass roof not only let as much light into the cockpit as possible, but also provide mounting for the dramatic scissor-style doors. The rear side windows have been broken up into what appears to be a random pattern checkered motif. Renault say this is to let light into the interior in the same way a stained glass window does, However it would be interesting to see how this design idea could be adapted, or explained, for use on a production car.
Another first for the Altica concept is the introduction of a technology Renault calls the 'Synthetic Jet'. This patented system consists of a 2mm wide slit located at the extreme rear of the roof where the Altica and passing airflow separate. Through this slit air is alternately sucked and blown to control the separation of air depending on the Alitca's speed. At 80 mph the Synthetic Jet reduces the Altica's Cd by 15% resulting in improved fuel economy.
Inside the Renault Altica four single seats are provided, and while the seats themselves are fixed, the instrument cluster and pedal assembly is moved electronically to suit the driver. The rear seats can be folded away to provide 1300 litres of storage space.
Powering the Renault Altica concept is a 177 horsepower, 2.0 litre diesel running through a six speed gearbox. This powerplant is capable of taking the Altica to 60 mph in just 7.5 seconds while also emitting minimal CO2 emissions for its class.
- disenoart.com / Read more at (
Link
)